MrsHandPainted
Custom Engraved Wood Watercolor Box with Hand Drawn Floral Doodle Design and Personalization
Share
Regular price
Sale price
$54.00 USD
Unit price
per
Sale
Sold out
Original design and artwork by Jodie Hand @mrshandpainted 2022
Custom engraved luxury wood watercolor box with personalization. Customize your watercolor box with your name or business name. Each watercolor box is hand assembled after being cut out and engraved on my OmTech 60w laser. You can choose from walnut, cherry or maple finish plywood. Each box is made of layers of plywood which are glued together. Inset in each half of the palette are strong magnets which hold the lid to the bottom portion of the palette. The magnets are glued in place as well. The wood is finished with a glossy lacquer to protect the wood from moisture.
Inside the box, the lid contains a white resin palette. You can clean the palette by wiping it with a wet cloth and drying it. The Large and Medium size palettes will fit standard half pans. (Not included - but available to purchase separately) Please note this box does not have an air tight seal. It is closed with magnets and therefore you should not allow water to sit in the box to avoid damaging it. Allow your palette and paints to dry thoroughly before closing the box to avoid spilling or your paints becoming damaged.
Large - holds 24 half pans
Medium - holds 16 half pans
Small - with magnet sheet inside will hold 25 of the deluxe sample pans in my shop.
Compliment your purchase with a matching custom engraved sketchbook, handmade watercolor paints or empty PLA 3D printed watercolor pans!
Measurements:
Large - 4x6 inches - approx. 1 inch height
Medium - 3x6 inches - approx. 1 inch height
Small - 4x4 inches - approx 0.6 inches height
Please specify your personalization exactly as you want it engraved. The font shown is called "Buttercup". If you want a specific font or logo please provide that information when you order.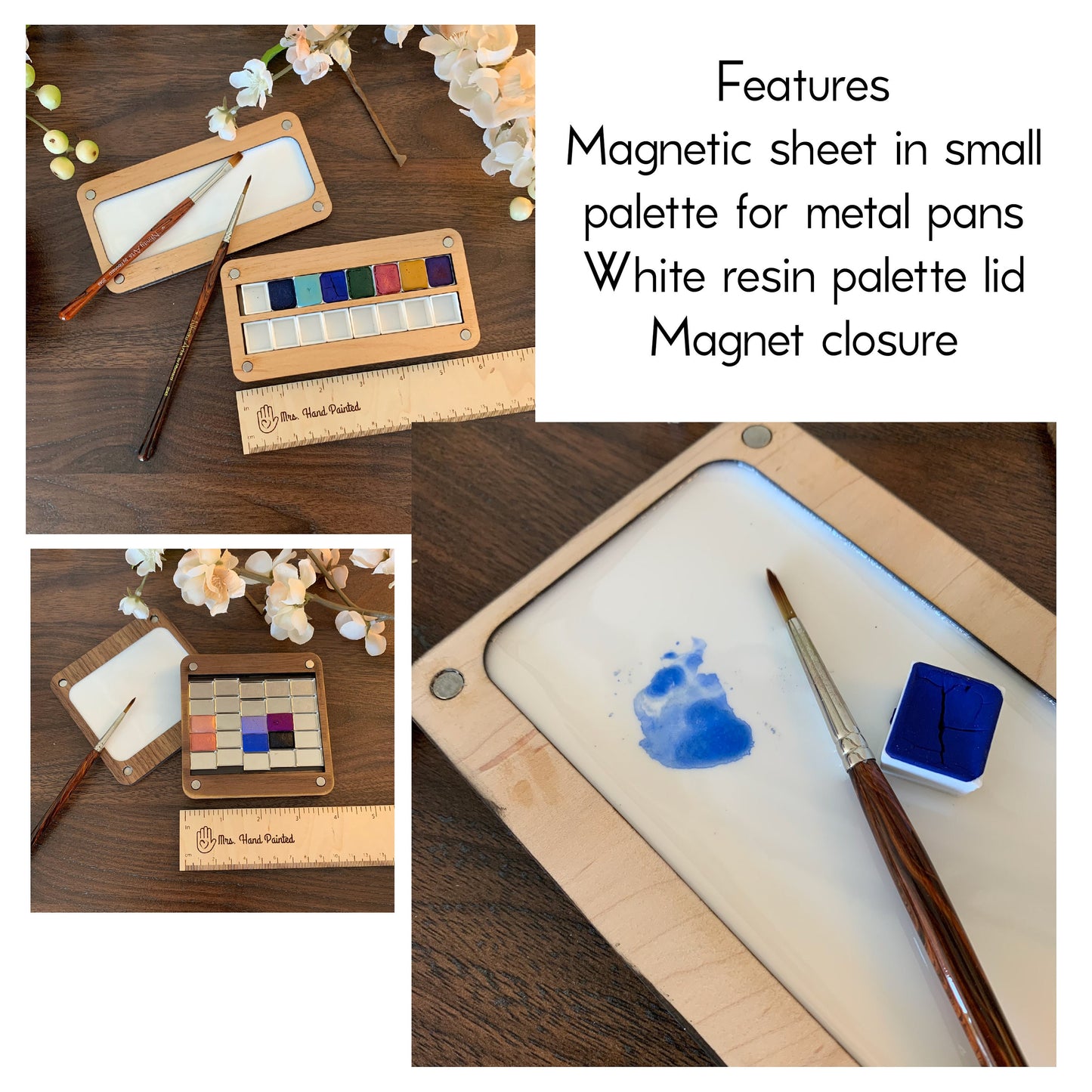 This is the BEST little watercolor paint box I have ever bought myself! This is so beautiful and sweet! It's perfect!…and having my name engraved into the front of it makes it truly special and personal. Worth every penny! I love this addition to my collection of art supplies!
Thank you Jodie for a beautiful piece of art work in this box!
Absolutely gorgeous pallette. It actually has a nice glossy sheen, which was unexpected but welcome, as it will ensure any paint stains aren't permanent. Also included a little paint sample, which was beautiful!
The seller is very quick with responses and super friendly! This item is beautiful! The custom art and name is very well done and the wood is a fantastic color. Thanks a lot!
I really love the pallet!
I absolutely love it!! Can't wait to take it out in the field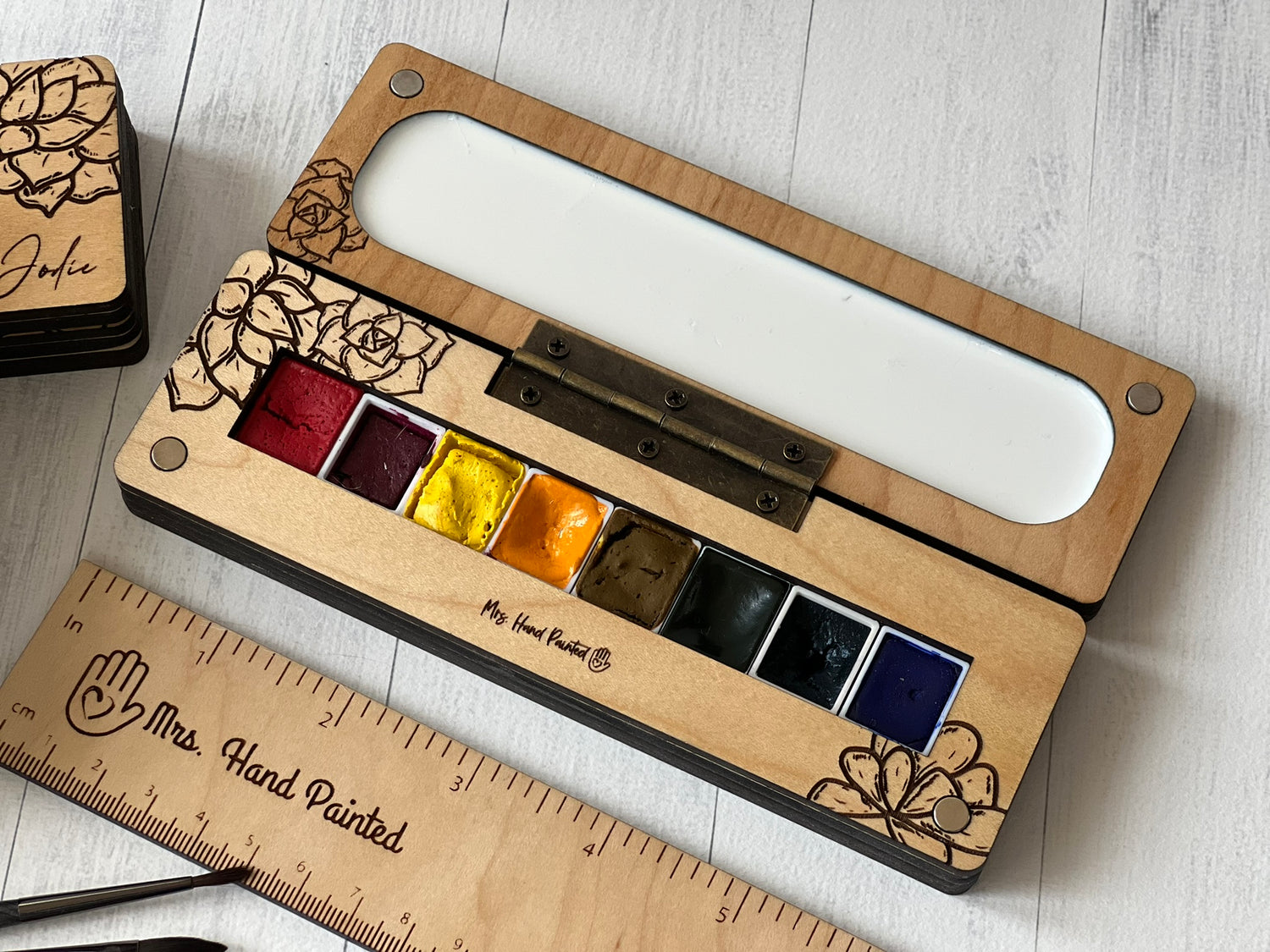 Watercolor Palette Boxes
There are several new sizes and styles of watercolor palette boxes available now. Check out the new succulent engraving designs on these new boxes!
Coordinating sketchbooks and trinket trays feature the same artwork engravings.
Palettes