MrsHandPainted
Custom PLA Bioplastic 3D Printed Watercolor Pans - Silk Shine Red or Pink Heart Shaped Quarter Pans - heart - Small or Bulk Quantities
Share
Regular price
Sale price
$6.80 USD
Unit price
per
Sale
Sold out
SILK PLA is Shiny Red or Pink color
All order for 3D printed items will be made to order. I do not have them pre-printed to save on storage space. I will print your order in the order in which it is received. I expect to be able to print your order within 24 hours of receiving it unless I receive many orders at once or large orders which take more than a day to print. Average print time for 100 half pans is roughly 14 hours.
Each of my 3D printed watercolor pans were designed by me in CAD software and rendered into 3D models to be printed. I print all of my prints on my Ender 3 Pro 3D printer at home. I have several colors available in PLA filament so if you'd like a different color printed for your order, please let me know! This listing is for white matte PLA pans in various sizes. Please choose your pan size and quantity. Prices per pan are cheaper for larger orders due to the time it takes to prepare the printer for a print job. My costs are based on time it takes to print an object / model and amount of PLA filament used for each job. Please see my other listings for custom shape watercolor pans and colored pans.
I've designed my pans to have rounded corners to prevent the need for sanding of corners. I've found sharp corners tend to have small bits of extra filament that requires sanding after printing. It is also easier to get paint out of the pans and save your brushes from damage when there is not a sharp corner in the inside of the pan.
Sizes:
Quarter Pan Equivalent Shaped Heart Pan - 19mm x 18mm x 6mm
See below for more information about PLA plastics.
What is PLA, and what is it used for?
Polylactic Acid (PLA) is different than most thermoplastic polymers in that it is derived from renewable resources like corn starch or sugar cane. Most plastics, by contrast, are derived from the distillation and polymerization of nonrenewable petroleum reserves. Plastics that are derived from biomass (e.g. PLA) are known as "bioplastics."
Polylactic Acid is biodegradable and has characteristics similar to polypropylene (PP), polyethylene (PE), or polystyrene (PS). It can be produced from already existing manufacturing equipment (those designed and originally used for petrochemical industry plastics). This makes it relatively cost efficient to produce. Accordingly, PLA has the second largest production volume of any bioplastic (the most common typically cited as thermoplastic starch).
There are a vast array of applications for Polylactic Acid. Some of the most common uses include plastic films, bottles, and biodegradable medical devices (e.g. screws, pins, rods, and plates that are expected to biodegrade within 6-12 months). For more on medical device prototypes (both biodegradable and permanent) read here. PLA constricts under heat and is thereby suitable for use as a shrink wrap material. Additionally, the ease with which Polylactic Acid melts allows for some interesting applications in 3D printing (namely "lost PLA casting" - read more below). On the other hand, its low glass transition temperature makes many types of PLA (for example, plastic cups) unsuitable to hold hot liquid.
www.mrshandpainted.com
Instagram @mrshandpainted
Read more about PLA on wikipedia here:
https://en.wikipedia.org/wiki/Polylactic_acid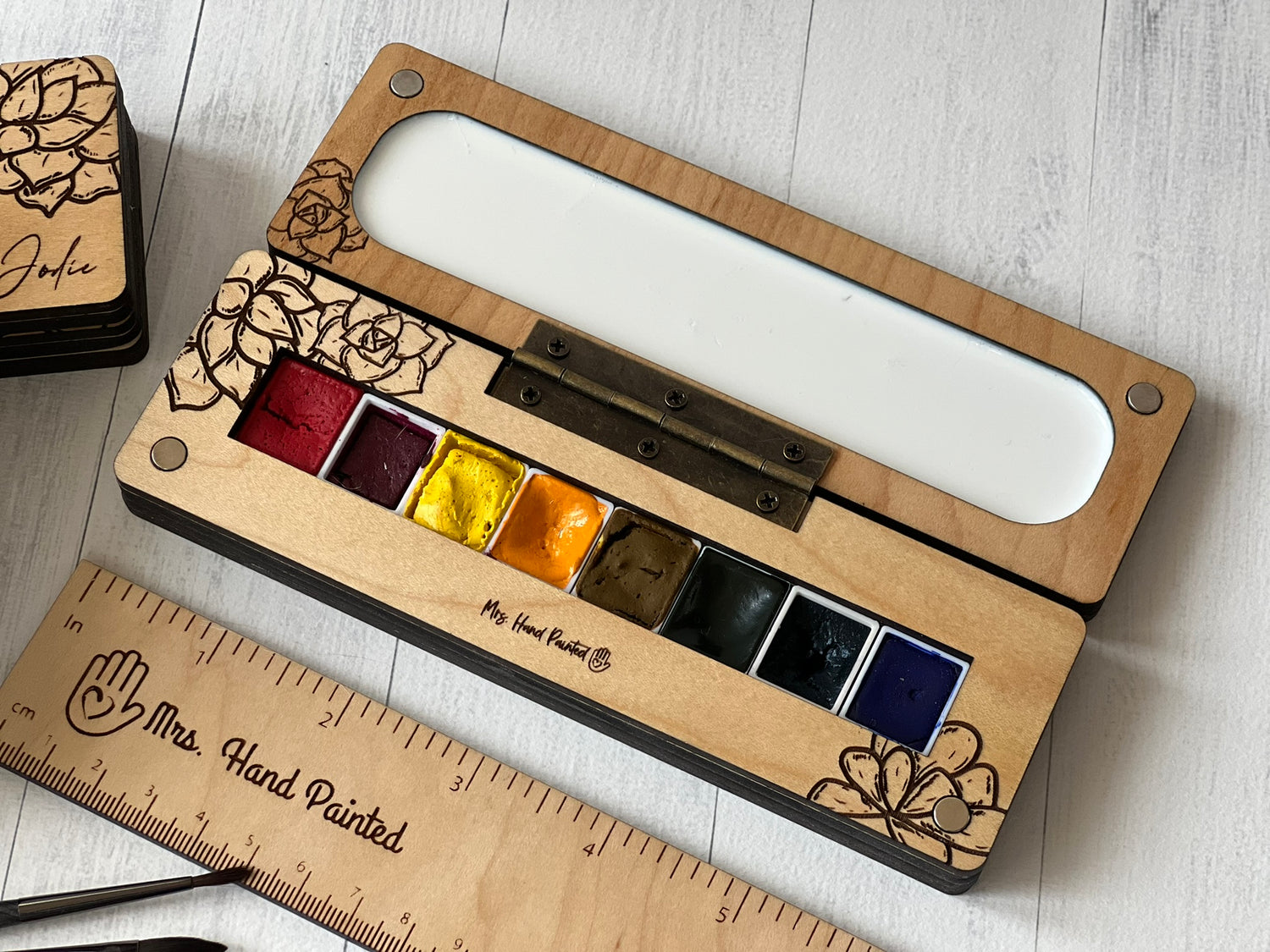 Watercolor Palette Boxes
There are several new sizes and styles of watercolor palette boxes available now. Check out the new succulent engraving designs on these new boxes!
Coordinating sketchbooks and trinket trays feature the same artwork engravings.
Palettes