MrsHandPainted
Handmade Watercolor Paints - Random GRAB BAGS - Matte watercolor (a few shimmers)
Share
Regular price
Sale price
$15.00 USD
Unit price
per
Sale
Sold out
***Please note if ordering multiples on this item you will likely receive duplicates***
This round of grab bags has mostly half pans that are 1/2 to 3/4 full - some are nearly full.
Some colors from honeybee, iowa prairie mess ups, color experiments and oops pans.
You will get a mix of sizes - half pans, quarter pans, deluxe sample pans and some full pans and mini samples. Each bag contains a mix of sizes.
Mostly full pans for majority of colors in grab bags. These are all varying from color experiments I did, partial pans I ran out of pigment for, colors I'm discontinuing etc. some have over spills or are a bit messy.
I will do my best to not have duplicates in each grab bag but if you order multiples you may end up with some duplicates.
Sales are final on the grab bags and no exchanges or returns.
*****Each grab bag has at least $40 worth of paint in it.*****
🎨Handmade Watercolor Item Description🎨
🎨This listing is for a grab bag of random colors in half pans / full pans or square metal pans.
🎨This color is:
Grab bags - random colors
*If you order multiple grab bags you WILL likely receive duplicates*
🎨Ingredients:
Pure pigment powder, artist grade
Distilled water
Organic gum arabic
Kosher food grade vegetable glycerin
Pure Iowa honey from Ebert Honey in Lynnville, Iowa
Clove oil
🎨Mrs. Hand Painted watercolor paints are mulled by hand in small batches on a glass slab from pure pigment and my own homemade watercolor medium. Generally, I use artist grade pure pigments for the majority of my paints. Many are single pigments and the pigment information is provided. If the paint is made with mixtures or contains other ingredients, it will be listed on the color information. The color of the watercolors may vary under the settings of your screen.
🎨Each watercolor pan is filled to the top and then dried. Some colors are prone to slight cracking in the pan, please rest assured this does not affect its usability or its properties on paper. Different pigments shrink slightly as they dry in the pan to varying degrees, but all pans have been filled the same way. Consistency of the paint differs between pigments. When receiving your paint, I advise letting them set in the freezer for about 10 minutes, as the tops of the pan may become sticky when exposed to any humidity during shipment. This will allow you to remove the foil wrapping around each pan with ease.
🎨Many of my paints are single pigment colors and the majority are lightfast. Non-lightfast colors or colors comprised of more than one pigment are clearly described as such.
🎨I'm sorry, but I cannot guarantee delivery dates for any reason, please keep in mind the estimated delivery date USPS gives on your tracking is an estimate only, and mail delays are always a possibility. Please make sure to place your order well before the date you need it by!
🎨Allow your colors to dry after using to prevent mold, (a slightly tacky texture is fine) and store them in a cool dry place out of reach of children or animals.
🎨Do not expose your paints to extreme conditions, avoid harsh heat or cold.
🎨Please use proper safety procedures when using your paints, do not eat or drink while painting and wash your hands after. These colors are not meant to be ingested or used on the body. Do not leave within reach of children or animals.
🎨Most pigments I use are considered non-toxic or of low toxicity, but some art pigments are toxic and should be handled with caution. Most have no known safety hazards in watercolor form when used as directed, but as art pigments are often not subjected to the same testing standards as edible dyes or cosmetic ingredients, should nevertheless should always be used appropriately and with proper safety precautions.
🎨Those pigments considered toxic will have that information available in the listing details. Do not use my paints if you have an allergy to clove oil, honey, gum arabic, glycerin, or the listed pigment.
🎨Please remember to read my policies before placing your order. By placing an order, you agree to abide by my shop's policies. Shipping normally takes place within Two weeks, depending on the item. please ensure your shipping address is correct before confirming your purchase. Returns, cancellations, or exchanges are not accepted, but if there is an issue with your order please contact me so I can help you.
🎨All photos shown are for illustrative purposes only. Any accessories shown are for display only, and are not included.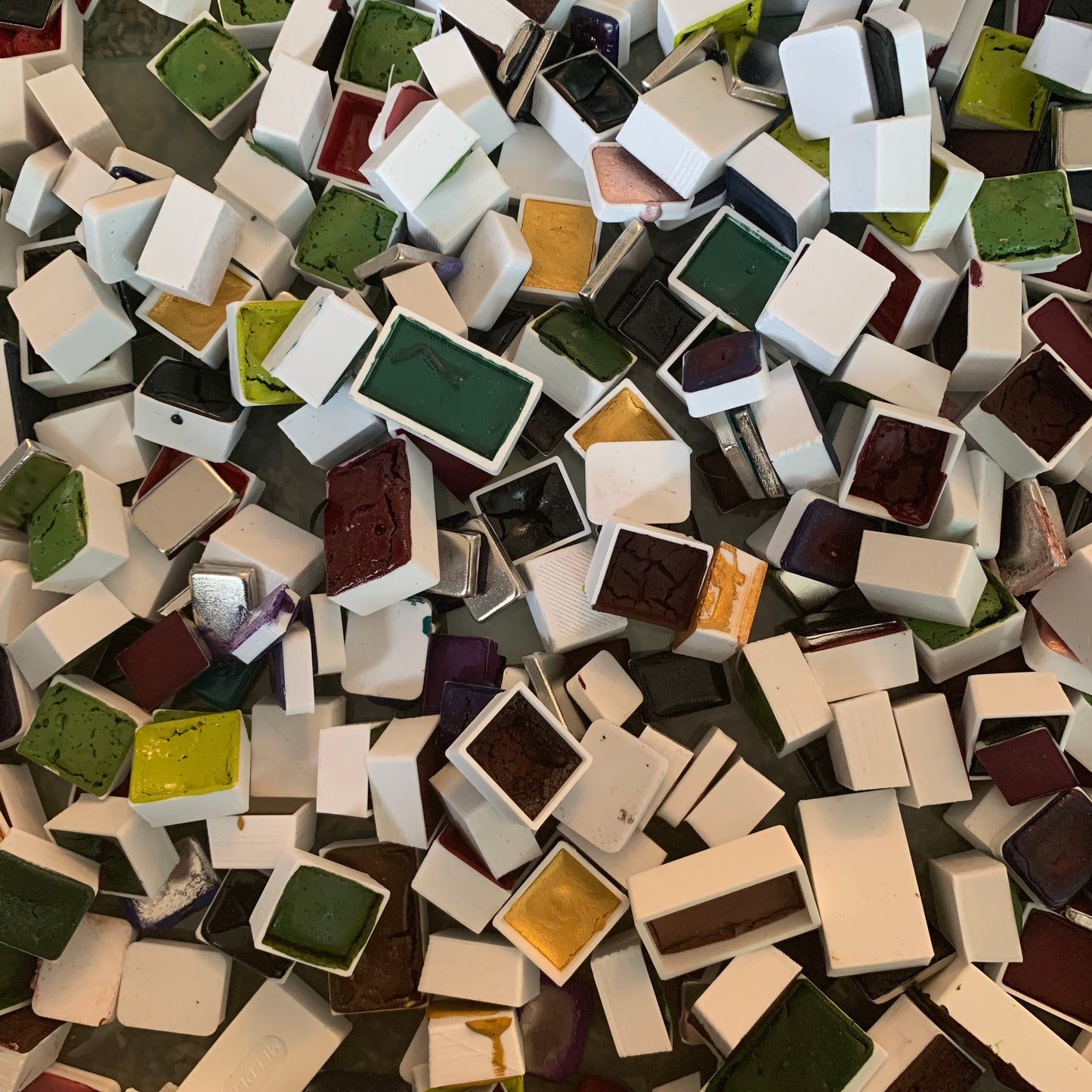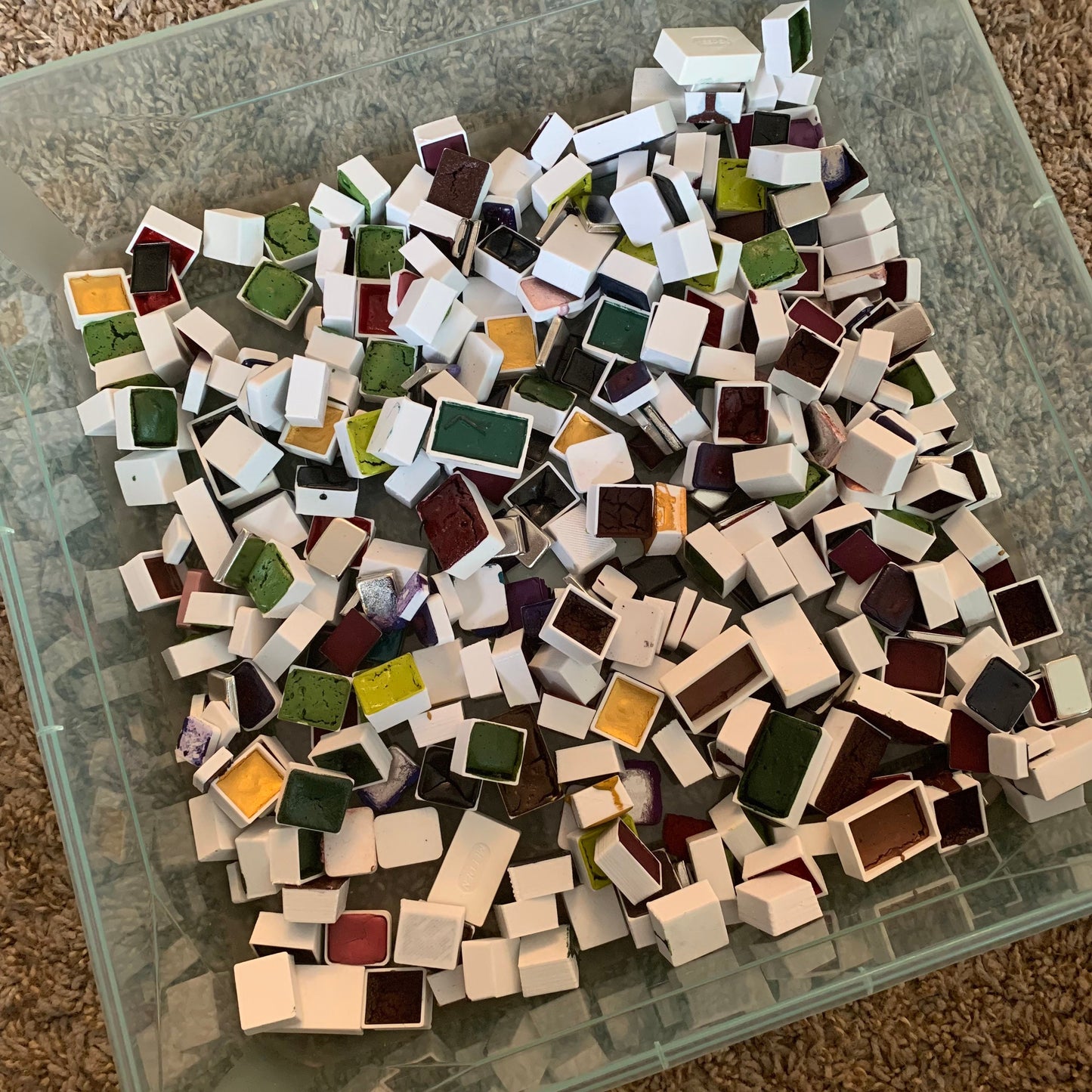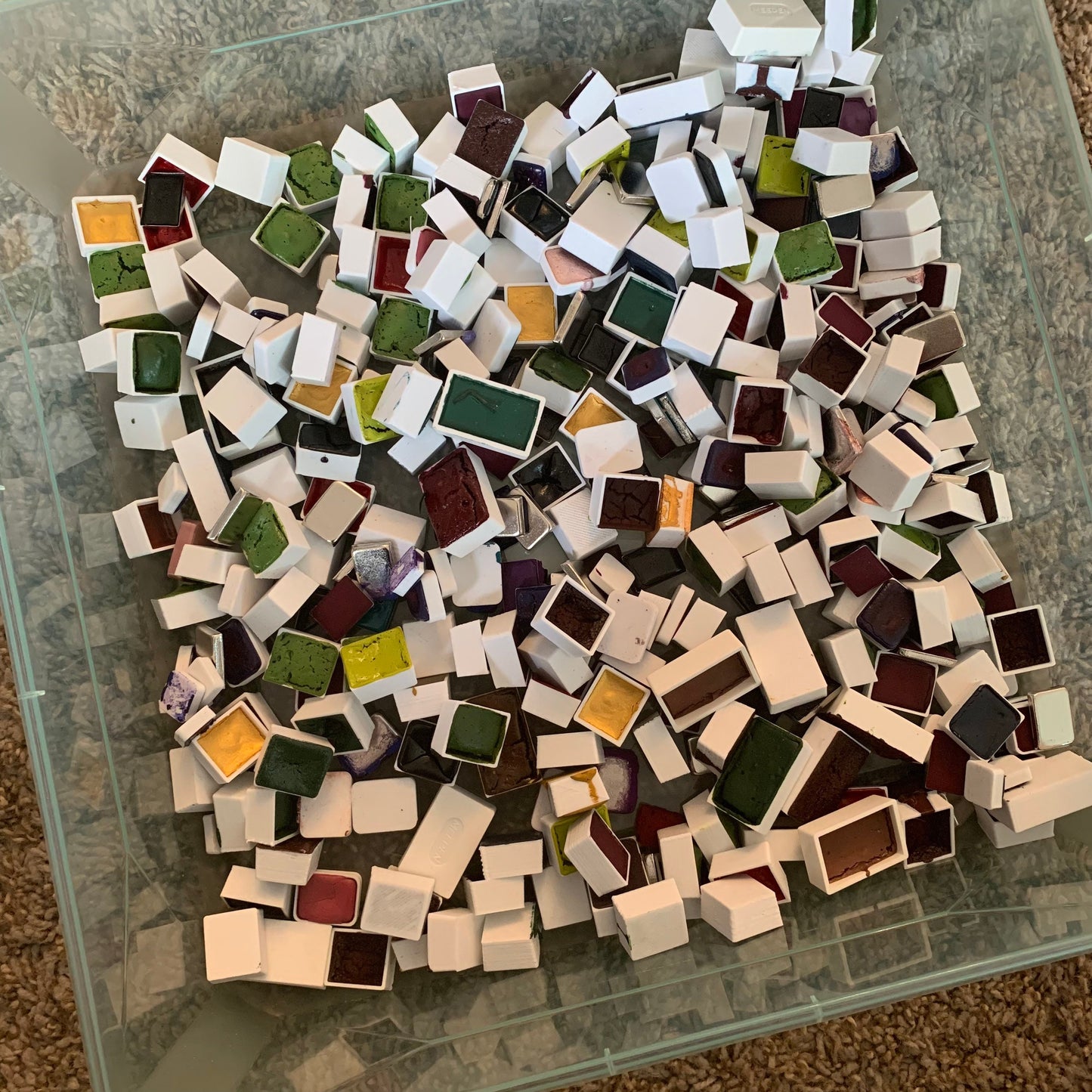 These colors are so pretty and lovely to use. Will buy more colors for certain!
Gorgeous. I love the grab bag idea.
I always love Jodie's watercolors. Grab bags always surprised me!
Generous amount of paint for price. Good mix of colours, very pleased with product.
This review has no content.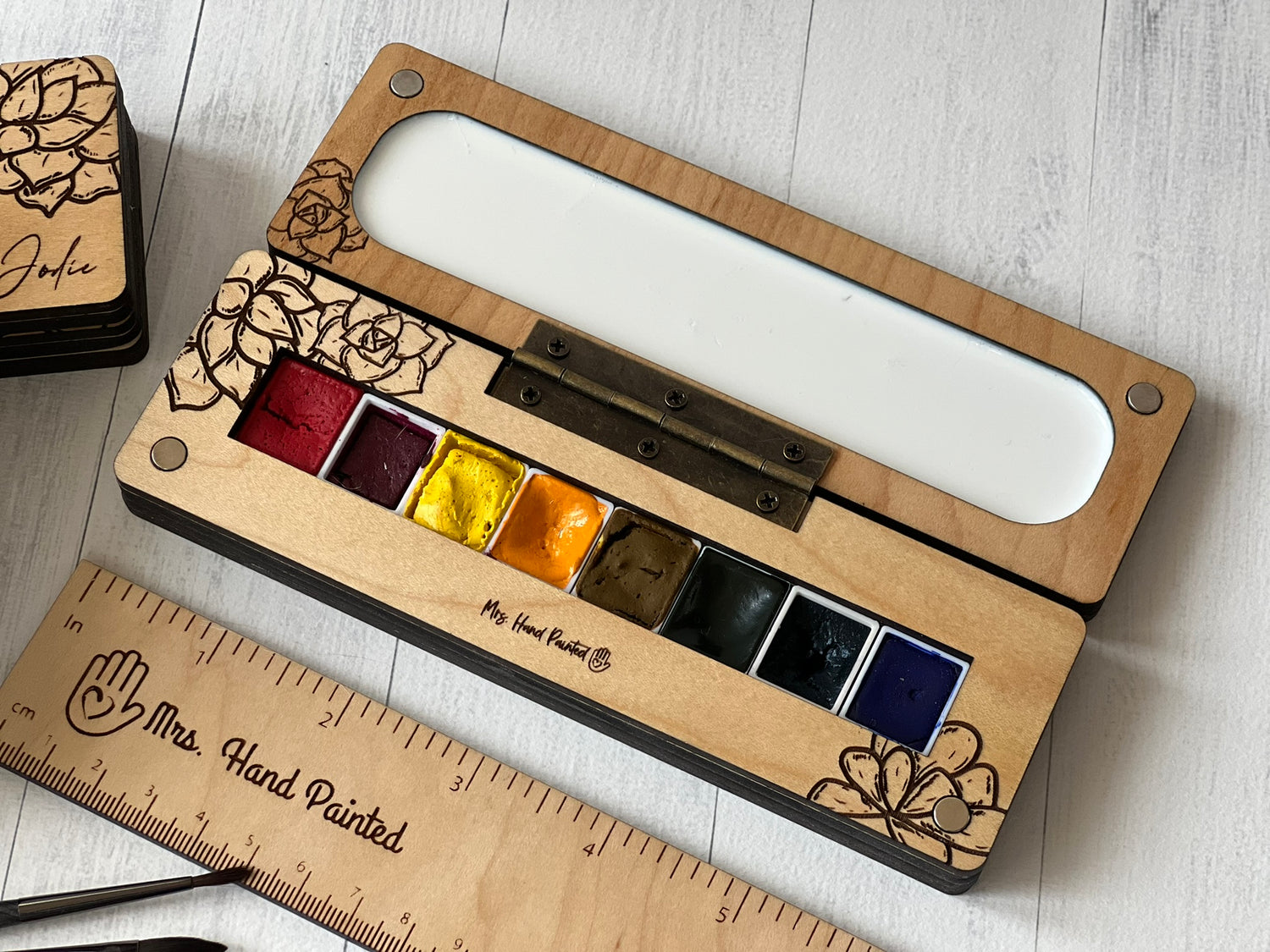 Watercolor Palette Boxes
There are several new sizes and styles of watercolor palette boxes available now. Check out the new succulent engraving designs on these new boxes!
Coordinating sketchbooks and trinket trays feature the same artwork engravings.
Palettes